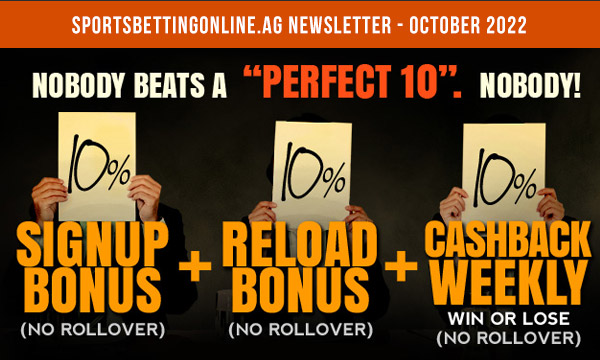 Kickoff October
with all these games
Ahhh, October, what a beautiful month for sport. With the NFL in full swing, baseball wrapping up, and the NHL just facing off, it's a wonderful time to enjoy your favorite American sports.

Log in to your SBO.ag betting account to make a real money deposit and get 10% bonus with NO ROLLOVER, plus 10% cash back on sports every Monday.

So, what's going on, and when's it happening?
NFL
The season's fifth week of games will be played over October 6, 9, and 10, and boy, are there some enticing fixtures, including the Cardinals vs. Eagles and Chiefs vs. Rovers. The Chiefs are looking to maintain good form, and the Cardinals want to put an end to the Eagles' winning streak.

October 13-17 will see week six of the season with the Falcons vs. 49ers and Eagles vs. Cowboys. The Falcons are looking to improve their start to the season, and the 49ers are aiming for the top spot in NFC West.
NCAAF

It looks like an action-packed month in college football, with games scheduled throughout the month.

On October 1, week 5 of the season sees

Iowa vs. Michigan and
Ohio vs. Rutgers
in the Big Ten.

In the Atlantic Coast division, week 6 of games will see
Clemson face Boston College and
Pittsburgh vs. Virginia Tech.

In the PAC-12 North, week 8 sees
California vs. Washington;

back to the Atlantic Coast Division, we have
Wake Forest vs. Boston College.
MLB

Coming down to the pointy end of the season with the regular season closing and the Wild Card, Division Series, League Championship, and World Series to look forward to.

Here are the dates you can't miss:

Wild Cards: October 7–9

Division Series: October 11–17

League Championship Series: October 19–26

World Series: October 28–November 5
NHL

October marks the start of the NHL!

So if you've been on a hockey drought for the past six months, you'll be excited for the return of the regular season, facing off on October 7.

Games to watch include the
Sharks vs. Predators,
October 7th;

Canadians vs. Maple Leafs,
October 12th;

and Stars vs. Jets,
October 17th.
Why Bet at SBO?

October is an excellent month for sport, so sit back, crack open a cold beer, and stick a few dollars on your favorites from field to ring. For the best odds on the biggest games this October, check out SportsbettingOnline.ag for simple, no restrictions betting!

All are welcome, so log into your existing account today and check out the odds, no rollover bonuses and get money back every week with no restrictions.



Login to your account today at SBO.ag or SportsbettingOnline.ag